PCW's

"Commencement of Cool"

Event Photo Gallery
- Click to Enlarge!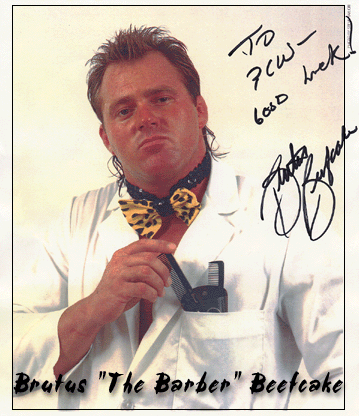 Brutus "The Barber" Beefcake
The Barber's Gift To PCW!
Commencement of Cool
Two of our wonderful volunteers helping out with the Merch stand!
Commencement of Cool
"Commencement of Cool" is about to begin!
Amazing Crowd
PCW's "Commencement of Cool" set a Manitoba Independent Wrestling Attendance record that still stands today! Over 1700 fans packed the IGAC at the U of M!
Opening Match
Mentallo & Kenny Omega opened the show and set the tone! How many fans knew they were witnessing two young men who would go on to become Internationally famous!
Mentallo vs Omega
The bag of cash can be seen hanging above the ring. Two teams would later compete for the money in an incredible TLC Match!
Dixon
Sugar Daddy Dave Dixon peers out at the incredible crowd!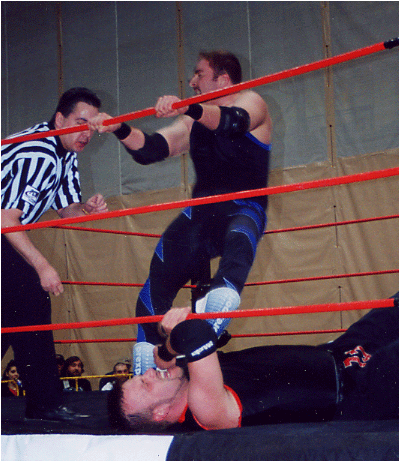 Parys vs Bratt
Chris Parys and TJ Bratt renewed hostilities!
HTM
The Honky Tonk Man is singing and dancing!
HTM Is Ready
PCW's Vice President and show host Mike Davidson looks on!
HTM vs Beefcake
This classic WrestleMania IV Rematch was Interrupted by HTM's Biggest Fan - PCW VP Andrew Shallcross!
HTM vs Beefcake
Shallcross got more than he bargained for...and a free haircut
Haircut
HTM and Beefcake put Shallcross to sleep and cut his hair!
HTM vs Beefcake
HTM & Beefcake are pretty proud of themselves
Duff Man
PCW has the greatest fans in the business! Here is the leader of the Strat Pack!
TLC
Rawskillz introduces the Big O to the steel barricade!
TLC 2
Assisted Suicide double team Moses Luke!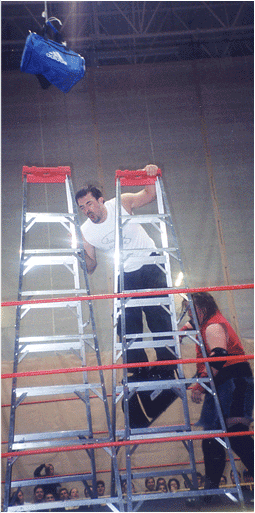 TLC 5
Chad Tatum retrieves the bag of cash!
Eddie & His Girls!
Getting ready to walk the aisle, Eddie with Cowgirl Tracy Lynn & Latina!
Eddie & Mike
Following the event, Eddie Guerrero & Mike Davidson made plans for Eddie's return in July at PCW's Boiling Point versus Rey Misterio! Alas, both Eddie and Rey would soon sign WWE contracts!